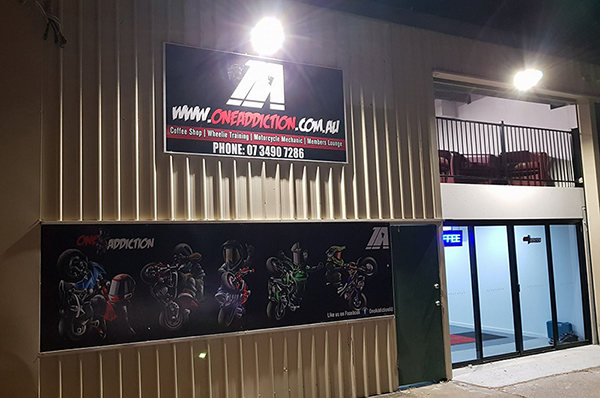 About Us

Two Wheels, One Location, One Addiction
At One Addiction we live and breathe motorcycles so much so we started Brisbane's only all in one social bike hub.
We offer motorcycle licences through the Qride program as well as advanced and cornering courses. Our training is tailored to the individual and can be delivered on a one on one basis.
We have a fantastic workshop operating 6 days a week and offering everything from motorcycle tyres and minor services right through to major rebuilds and high-performance head work.
The workshop also has Dyno Dynamics most advanced dynamometer and we offer simple diagnostics right through to full custom tunes, race fuelling and ignition mapping for bike with and without forced induction.
As a unique feature we have the world's only wheelie training simulator, there are plenty that exist but nothing even close to the engineering in our machines. We offer training on the wheelie machine, and we are also available for hire at your events and functions and can provide a truly epic performance with our stunt team as well.
If you want to ride, currently ride or even like the idea we have something for you, and I bet we exceed your expectations in every way imaginable.