One-On-One Tailored Motorcycle Training Lesson


One-On-One Tailored Motorcycle Training Lesson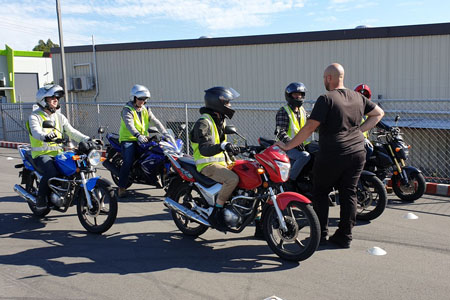 Our One-on-One lessons are tailored around personal skill development and can be as simple as working on clutch control and slow ride to advanced roadcraft techniques, including; throttle over brake, street body posture, heavy braking / emergency stop and much more, with one of our qualified qride team. We can utilise our private training range as well on road training depending on your personal preference and requirements. Riding protective gear is provided but you must wear long pants and enclosed shoes. If these time slots don't suit or none are showing, please call 1300 277 433 to inquire and book.
Pricing: $110.00 per one hour slot.

Book Your One-On-One Tailored Motorcycle Training Lesson Below
OR Call 1300 2 QRIDE (1300 277 433)
All Q-Ride motorcycle licence training is provided by One Addiction Pty Ltd.
Accredited by the Department of Transport and Main Roads, Q-Ride RSP 1102O0720.
After information on our courses, click the course title below:
Q-Ride Pre-Learner Motorcycle Licence Course CLICK HERE
Q-Ride Restricted RE LAMS Motorcycle Licence Course CLICK HERE
Q-Ride Unrestricted R Class OPEN Motorcycle Licence Course CLICK HERE
PHONE ENQUIRIES OR BOOKINGS MONDAY-FRIDAY 9AM – 5PM & SAT 9AM - 3PM
Call 1300 2 QRIDE (1300 277 433)
Feel free to call, pm through our facebook page or email QRIDE @ One Addiction with any queries, we are happy to help!