Motorcycle Dyno Tuning Brisbane
Motorcycle Dyno Tuning & Dyno Diagnostics
Why pick One Addiction for your motorcycle dyno tuning and diagnostics needs?
At One Addiction it's all about the line, and the line we are talking about is your air fuel ratios. We aren't about getting you some massive top figure at 100% throttle on our fake Dyno. It's all about changing the ride of your motorcycle, picking out the perfect air fuel ratio and setting that line through the entire RPM range at all throttle positions. A good dyno technician is one that will spend the time to get the results, anybody can auto-tune but we guarantee our product.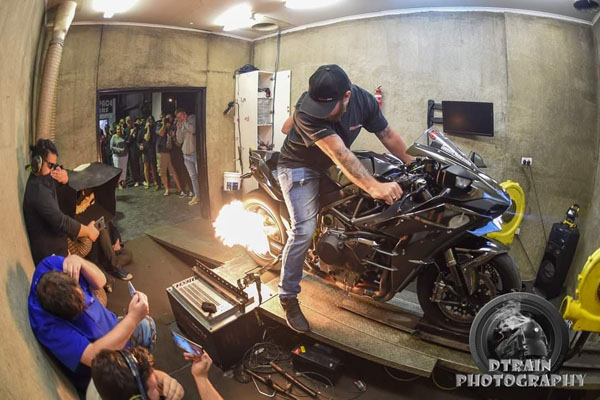 Every customer whether they choose Woolich Racing, Power Commander, Rapid Bike, Bazzaz or Screamin Eagle we offer a six-month retune warranty. We encourage you to come back after 6 months of riding your custom tune and we will re-run your motorcycle for free and make any adjustments to the tune required as long as no modifications to the motorcycle were made. If you have made modifications to your bike we will offer you a discounted rate to re-tune and keep your bike running optimal.
If your bike has the 'Tuned by One Addiction sticker' it needs to be the best, that is our minimum standard.
For more information on the tune software / EFI tune module options available for your bike click
Upon completion of your tune not only will you receive your diagnostic print out but we will run you through the results on the laptop and show you where your gains were made and why your bike rides so differently now.
All this and we're still not the most expensive either. We encourage you to call for finer pricing but basic pricing is as follows and yes we will do discounts for our loyal regulars and servicing customers.
All motorcycle tunes are from $495.
Extra costs involved in tuning are your software and hardware so whether you choose a piggyback computer from dynojet or an ECU reflash from Woolwich this pricing roughly depends on the USD to AUD at the time as all of these companies list their price in US dollars.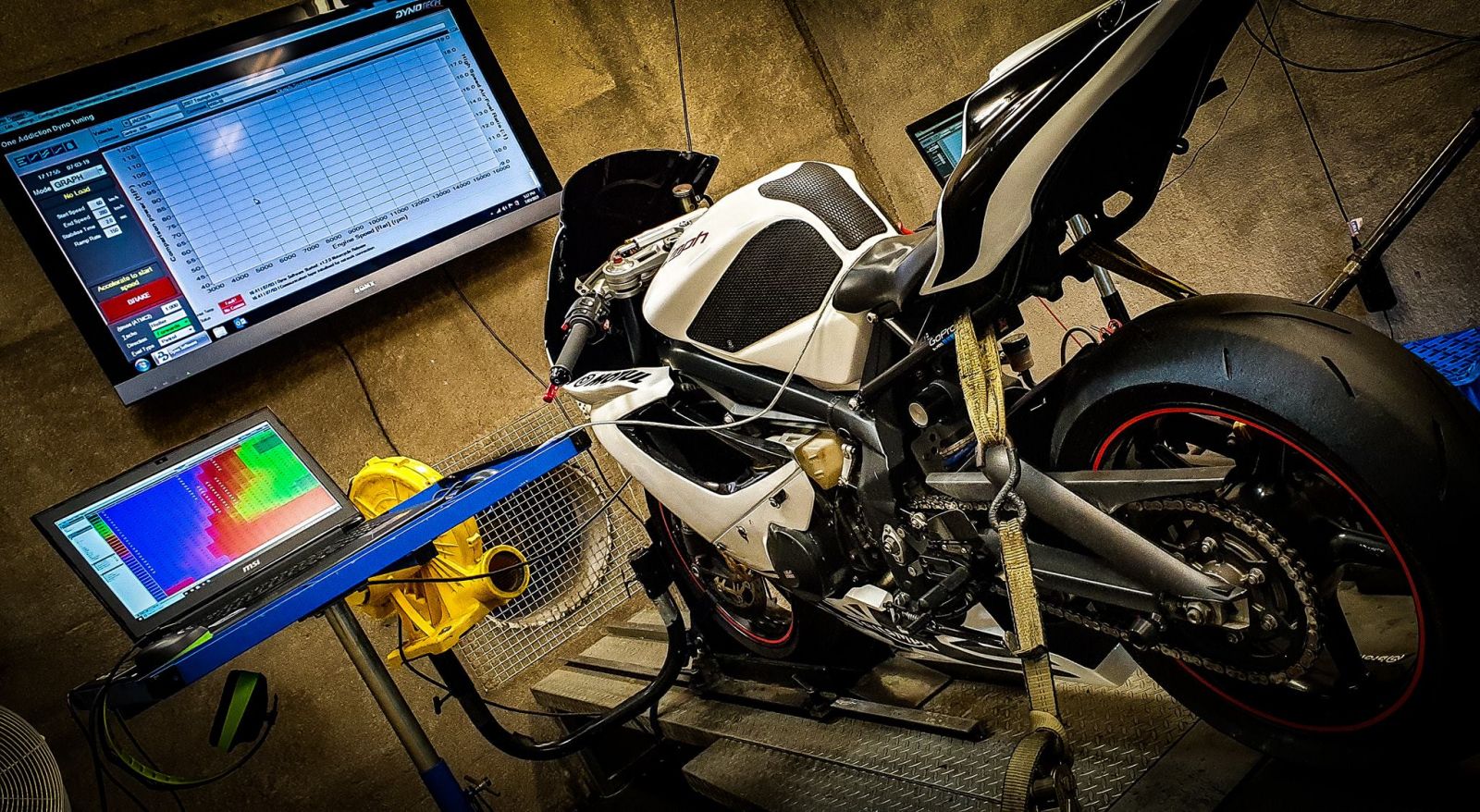 Also be advised there may be some extra labour charges if you require custom harnesses to be fitted to your motorcycle but we will strive to look after you on price with these things.
For example the Woolich Racing kit including install costs around $250 with the current exchange rate.
We obviously recommend your motorcycle is in reliable condition and has a good service history although it doesn't need to be a low kilometre engine. If our technicians however listen and inspect your motorcycle and can identify unhealthy noises we may advise you against or refuse to run your motorcycle on the dyno, if we think it could damage your engine and our equipment. However tuning your motorcycle is not considered to be problematic as it is simply a rolling road.
Of course you have many more questions and we would love to go over your options with you so do not hesitate to call the shop on 07 3490 7286, message through the contact us page or on facebook.
If you simply want to know how your motorcycle is running, book in for a dyno diagnostic run which will include three runs on our motorcycle dyno at 25%, 50% and 100% throttle positions. We will provide you with a laminated dyno sheet with the runs showing power, torque and the air fuel ratio throughout the rev range. We will walk you though the results on how your bike is performing and advise you from there.
FOR ENQUIRIES CALL AND SPEAK WITH OUR DYNO TUNING SPECIALISTS
OR SUBMIT YOUR DETAILS ON OUR ENQUIRY FORM
07 3490 7286 or 1300 277 433
Feel free to call, pm through our facebook page or email Addicts@OneAddiction.com.au