Q-Ride Pre-Learner Motorcycle Licence Course


Q-Ride Pre-Learner Motorcycle Licence Course

The Q-Ride pre-learner course is the mandatory course to obtain a motorcycle learner's permit in Queensland and is the first step of your motorcycling journey.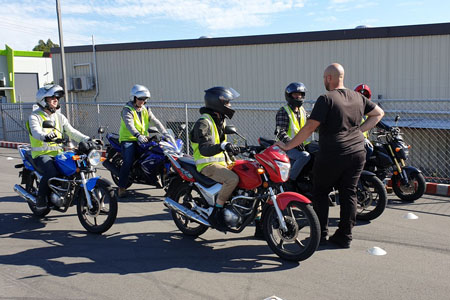 The course is designed to help new riders gain basic riding knowledge and motorcycle handling skills in a safe environment before learning to ride on the road. You require no riding experience or knowledge and all motorcycle riding gear is provided as well as suitable motorcycles that are easy to learn on at the One Addiction Brisbane Northside Q-Ride Riding School free of charge.
This course covers the basics of riding including protective gear, riding curves, controlled braking and good roadcraft.
Requirement: You need to have held a car licence for minimum 1 year.
On the day: Students need to wear long pants and inclosed shoes. All other gear is provided.
The course aims to:
Eensure learner riders have the knowledge and skills to manage routine riding situations under supervision
To instil good riding attitudes
To minimise the likelihood of harm due to inadequate riding knowledge or skills.
This course has an extremely high pass rate and is competency based with instruction, practice and demonstration throughout the 2 days by our highly experienced Q-Ride instructors.
The course runs for 2 day, 6 hours on day one and 6 hours the following day covering 34 modules, with a maximum of 5 students per course. The small class size keeps the course very friendly, helpful and makes sure everyone has an enjoyable learning experience.
Once you complete your Q-Ride Pre-Learners course, your next step is to go onto the Queensland Transport and Main Roads website, login to TMR and complete your 30 questions licence test.
Before completing the test, here are the TMR sample qestions: Practice Road Rules Test Questions
Book You Q-Ride Pre-Learner Motorcycle Licence Below
OR Call 1300 2 QRIDE (1300 277 433)
All Q-Ride motorcycle licence training is provided by One Addiction Pty Ltd.
Accredited by the Department of Transport and Main Roads, Q-Ride RSP 1102O0720.
After information on another course, click the course title below:
Q-Ride Pre-Learner Motorcycle Licence Course CLICK HERE
Q-Ride Restricted RE LAMS Motorcycle Licence Course CLICK HERE
Q-Ride Unrestricted R Class OPEN Motorcycle Licence Course CLICK HERE
PHONE ENQUIRIES OR BOOKINGS MONDAY-SATURDAY 9AM – 5PM
Call 1300 2 QRIDE (1300 277 433)
Feel free to call, pm through our facebook page or email QRIDE @ One Addiction with any queries, we are happy to help!