Motorcycle DIY Minor Logbook Service Training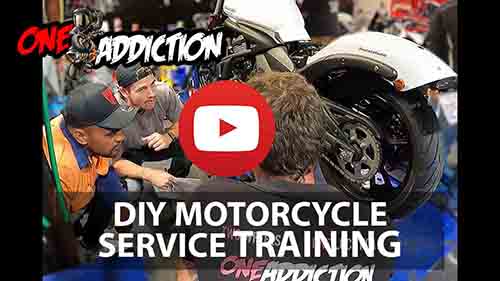 Motorcycle DIY Minor Logbook Service Night
The One Addiction DIY service night is like nothing else available. Sure there are plenty of learn to service a bike events but ours is truly unique and here's why.
You will watch and fully complete a minor logbook service on YOUR OWN motorcycle. That's right, you will be paired with a buddy or bring a friend and your pair will have their own tutor/technician. You will learn everything we do when completing a motorcycle minor logbook service.
We provide Motul semi-synthetic oils, hiflo oil filter and wurth lubricants for you to use as well as all tools, workbenches and other incidentals.
We also shout a pizza or similar dinner and fire up the wheelie simulator for a wild night, while getting a service completed on your bike.
If you would like a private evening we can also do this with 6 participants.

Minor Service DIY Night is only $330, with $50 deposit payable when booking
Book Online Here
BOOK ONLINE, CALL OUR TEAM OR SEND THROUGH YOUR DETAILS BELOW TO BOOK YOUR MOTORCYCLE DIY SERVICE SPOT
07 3490 7286 or 1300 277 433
Feel free to call, pm through our facebook page or email ADDICTS @ One Addiction.